Qualcomm announces 4nm Snapdragon W5 and W5+ Gen 1 SoC for wearables
Just after its teasers SoC final 7 days, Qualcomm is saying two new wearable chipsets these days. To do well the Snapdragon Use 4100+ platform, Qualcomm announces the Snapdragon W5 Gen 1 and the W5+ Gen 1. Both of those SoCs are crafted on the 4nm method and signify a drastic improvement to Qualcomm's providing for wearables.
Qualcomm touts that its new wearable chipsets will offer up to 2X the functionality utilizing fifty percent as much electrical power in comparison to the Snapdragon Dress in 4100+ Platform. In usual scenarios, the W5+ can present up to 50% more time battery lifestyle by having up 30% fewer area than prior generations. Qualcomm has worked intently with Google about the past various quarters to improve Dress in OS for the new SoC.
The key big difference amongst the Snapdragon W5 and W5+ Gen 1 is that the non-Additionally product skips out on the AON Co-Processor. It intends to equip section-unique wearables with the Snapdragon W5 Gen 1 as they won't demand the additional electrical power-conserving capabilities. This incorporates wearables for China, Youngsters, Seniors, Wellbeing, and Business segments.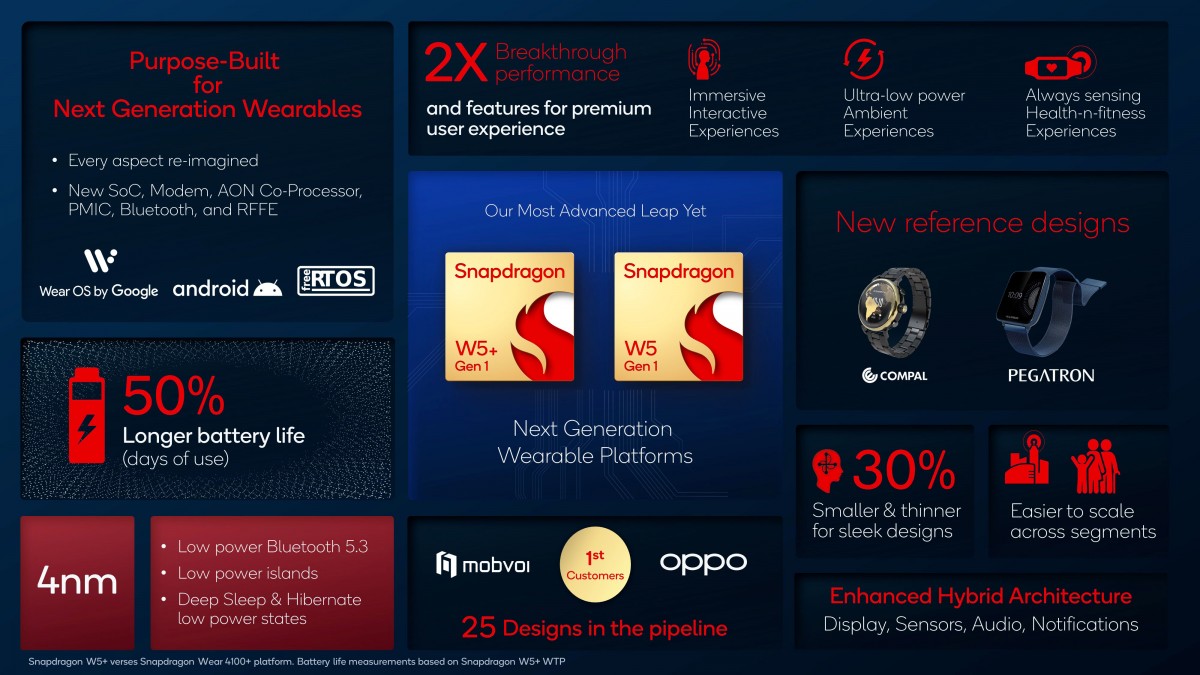 The W5+ Gen 1 is built up of 4 Cortex A53 cores and a person Cortex M55 effectiveness core at 250 MHz. Graphics are dealt with by the A702 GPU clocked at 1 GHz (sizeable enhance from the 4100+'s 320 MHz A504 GPU) and memory has been current to help LPDDR4 at 2133 Mhz. A new Machine Mastering device U55 has been extra right here as very well.
The W5+'s new co-processor can take care of extra jobs in the background even though utilizing significantly less power. All the wearable's sensing is handled by the AON (often on) Co-Processor (22nm) and with the W5+ Gen 1, speech processing, audio playback, and notifications are all ready to be handed off to the co-processor now. The AON chip will also permit low-ability Bluetooth 5.3, Wi-Fi, GNSS, and provides help for new energy states like Deep Snooze and Hibernate. LTE is also obtaining a reduced-electric power manner with an update modem.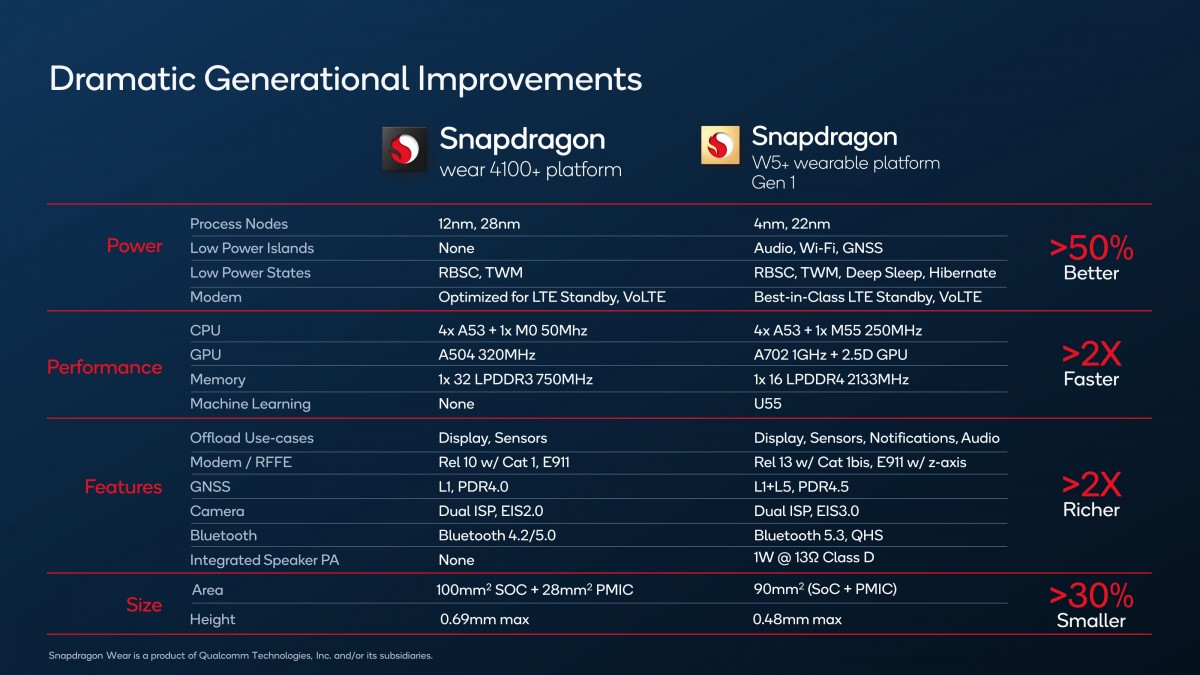 Qualcomm announces it has partnered with Compel and Pegatron to build reference smartwatches with the Snapdragon W5+ on board to support associates build merchandise a lot quicker.
Mobvoi and Oppo will be the first OEMs to start wearables with Qualcomm's new SoC and the chipmaker states 25 smartwatch models are presently in the pipeline. Oppo is anticipated to make an announcement someday in August for the Oppo Observe 3.
Facebook Comments